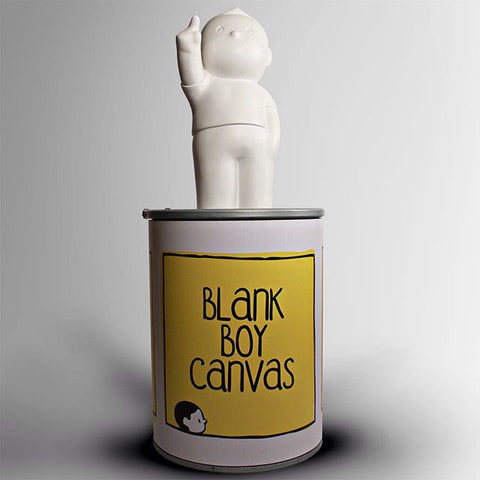 You may have come across this little guy (or versions of him) on the internet or throughout several locations around the city.  If not, let us introduce you to the BlankBoy Canvas project.  Our homie James Robertson has curated an amazing exhibit for the people of Toronto.  Robertson is involved in numerous creative/artistic projects across the globe.   He got together with Danny Yung & Curious and Creative to bring this collection to life.   The initiative empowers collective creative collaboration concluding in Hong Kong 2016 with an exhibit and auction.  
DANNY YUNG & TIAN TIAN: Danny Yung, well known experimental artist, is the creator of the Tian Tian Xiang Shang comics and the Tian Tian character himself.   He is one of the most influential artists in Hong Kong.  Tian Tian is the character that is used for this canvas.  
EXHIBIT:
This Thursday December 10th the collection will be on display at the Gladstone Hotel until the 22nd.  The collection creatively represents the individual approach to a predefined canvas (the blankboy)
The exhibit will feature blankboy figures from the following artists:  Talwst, ArtChild, Rcade, Wysper, Elicser and many more.  To see the full line up of artists in the exhibit visit Blank Boy Canvas.
WORKSHOPS:  This coming Saturday December 12 and 19th, Blank Boy Canvas has teamed up with youth advocacy arts groups to develop a workshop for children.
In this workshop kids will get the chance to decorate their very on mini version of the figurine.
For more information on the workshop visit their site:  BLANK BOY CANVAS WORKSHOPS
 *  *  *  *  *
We are very excited and happy for the homie James and his team for putting together this great exhibit and workshop for the city and other cities worldwide.  Blank Boy Canvas is set to tour in various cities like Chicago, New York City, San Francisco, Vancouver, Singapore & Hong Kong.
To see pics on this little guys adventures checkout their instagram @blankboycanvas
Make sure to visit the Gladstone on between Thursday December 10th to the 22nd to see these amazing pieces before its too late.