Hotel restaurants are sadly assumed to be the most bougie of them all, and Dirty French is just that in the most demure way. Chefs Rich Torrisi and Mario Carbone, alongside business partner Jeff Zalaznick opened up Dirty French in Hotel Ludlow in the Lower East Side just one year ago.
So what makes this establishment of French Nouveau eats so cool? Well, aside from it being a part of the genre 'nouveau' (meaning fresh, new, and not those gross frog legs your mom made you try once) the chefs scoff at French cuisine by seriously f*cking shit up. 
From the interior design to the menu, everything that was once perfectly French and cleanly executed has a big old fingerprint smudge on the lens - but that's what makes this place elegantly disheveled and mouth watering. 
Carnival mirrors lining the interior - covered in wax. French flag across the bar - splashed with ink. Classic French dishes - spiced the f*ck up. Polite waiters in classy clothes - and those Jordans you can't afford.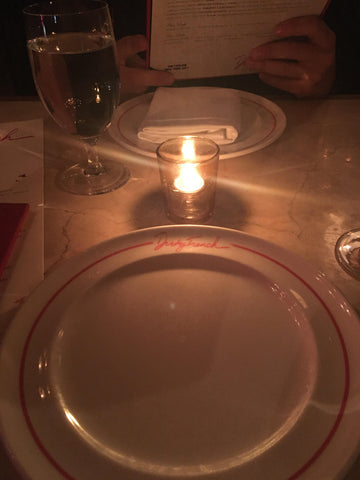 Every dish has the perfectly right amount of too much. Starting with the pita bread, dubbed baguette à l'ancienne. It's covered in olive oil, a fistful of spices, then buried under a mountain of fromage blanc. And there's no such thing as too much cheese so it was perfect.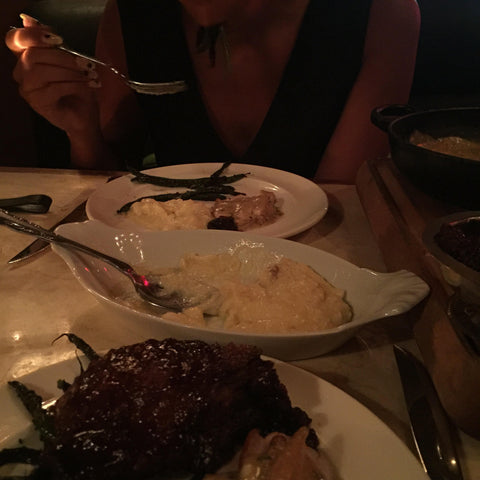 As for the main dishes, we dove into the Thanksgiving menu: the roti turkey (Thanksgiving menu-only) and the mille-feuille (year round dish) were seriously impressive. The sh*t is mille-feuille? It's an accordion of ribbon-thin mushroom stems folded over and over to resemble a pastry - but when you pull it apart it has the texture of noodles. DF serves it atop a green curry, you know, once again giving the finger to French cuisine with a sh*t eating grin - because it tastes so good.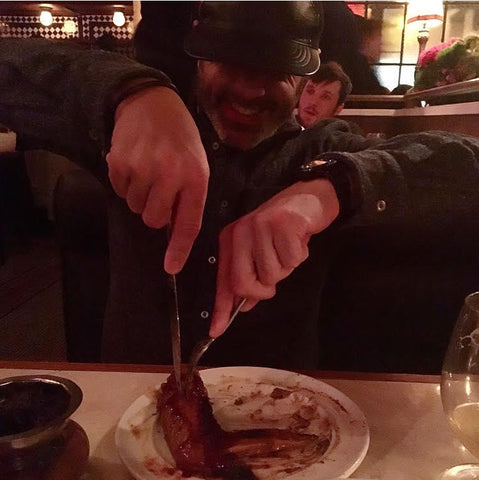 (Diggin into the roti turkey above.) Vietnamese, Thai and North African spices make their way onto a range of plates to confuse your palette and simultaneously make your head spin with excitement. Their cocktails are made with some crazy ingredients (but of course) and are nothing short of fun, flavorful and punchy.
Dirty French is so obnoxious you'll want to punch it in the face and make sweet, sweet love to it at the same time. And isn't that what every good relationship is all about?
All in all, we highly recommend Dirty French. Check them out at The Ludlow Hotel on the Lower East Side.