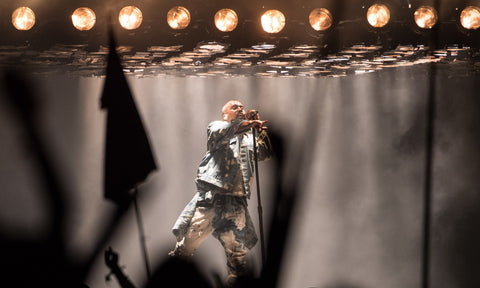 The petition to get Kanye West off the bill for the Closing Ceremony of the Pan American Games in Toronto has gathered over 52,000 signatures in less than a week. West is not a stranger to this kind of reaction; his recent Glastonbury performance was petitioned against as well, gathering over 133,000 signatures. The Glastonbury petition asked for Kanye West to be switched out for a rock band, while the Toronto petition is asking the Pan Am Organizing Committee for a Torontonian/Canadian headline act.
Some of the comments on the petition were rather harsh on West:


"Kanye shouldn't represent Toronto, Canada, North America or human kind in any way."
"Kanye West is not deserving. He is an arrogant jerk who acts like a spoiled toddler."
"Kanye West is a criminal and a loser . I dont want to pay taxes for this garbage."
And somehow a politically concerned 9 year old jumped in as well:
"Because I am 9 years old and he sings about doing mean things to women"
Even Toronto Councillor Norm Kelly chimed in:


Drake reacting to the news that Kanye West is performing at the Closing Ceremony for @TO2015 rather than him. pic.twitter.com/JnU2i0NVUz

— Norm Kelly (@norm) July 15, 2015


Despite the harsh criticisms, the petition is not unreasonable. International Games events such as the Olympics have historically showcased acts native to the host country. The creator of the petition, going under the alias XYZ, lists a number of Canadian acts that would have fit the bill more appropriately considering the context, including "Drake, Walk Off The Earth, Feist, Metric, Shania Twain, deadmau5, Crystal Castles, Zeds Dead, The Weeknd"
If the petition is recognized by the Pan Am committee, it will be the second major musical act Toronto has shooed away within the span of one month (the first being Action Bronson for NXNE). 
I'm not saying Toronto should chill, but......
Phone call back home, shit is hot up in the 6, boy
Shit hot up in the 6 right now, shit hot up in the 6, boy
Shit is hot up in the 6 right now
― Drake – 6 God
To view the petition, visit https://www.change.org/p/toronto-pan-am-games-don-t-have-kanye-west-perform-the-closing-ceremony-for-the-toronto-pan-american-games
Community Love,
JC