Happy International Women's Day, ladies!
Being the fist ever woman's sneaker store in Toronto makes us the most passionate advocates for female artists here in the city. Today, here at Community54, we want to give big ups to all the sweet hunnies breaking their backs for their craft, and looking damn good while doing it. Here's 3 boss ass bitches (all from the dot) you can watch out for:
1) Kris is an up and coming female rapper who's bringing the bars and the sexuality but owning it in a truly fem and empowering way. Check out the link to her new vid dropped just last week here.
2) Talvi Faustmann is one half of Prince Innocence and if you haven't heard her siren song yet you are missing out on powdery technicolor dream pop. Here, let me get that for you, this is Prince Innocence's latest video, which Ms.Talvi powerhouse both directed and edited. (you go girl).
4) Zefsidespinfuck is a spritely DJ and illustrator whose wave has just hit and we're happy to ride it with her into new ventures. You can catch her at FETTI April 2nd at Miss Things, alongside others such as yungshrimtempura (Derek Wise's producer counterpart) whose recent mix, btw, is dope.
Zefside came by the shop today and we had a pretty good time: see below.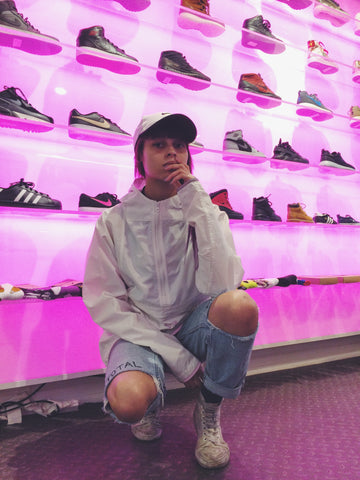 Show the young Torontonian ladies some love on the day of lady-lovin!
Written by Nikki Bagheri