Snack bars and sneakers and galleries- oh my!
Oh, Ossington, is there anything you can't do? Toronto has garnered much attention as a cultural hub in the past years, and  Ossington has become the perfect embodiment of this. In the daytime, bask in options such as the eclectic mix of restaurants to the wide range of boutiques (*cough* our fabulous sneaker shop *cough*) and record stores.
But when the sun sets the strip really starts to shine. Case in point: the NO REASON art exhibit launch last Friday at Hermann & Audrey Gallery.
The sense of community was undeniable. The exhibit consists of two huge rooms filled with art and a broad range of mediums with one thing in common: every exceptional artist featured calls Toronto home. Ambient lighting throughout the center of the space, spotlights on the lovely local artwork, a lively dance circle thanks to wavey house dj's .WAVGODS and all the Jameson your heart desires- think the coziest, most visually and auditorily stimulating living room rendez-vous. 
The turn out for opening night was exceptional, with cameos by other young Toronto creatives such as rapper Matthew Progress, DJ Skratch Bastid and charismatic blogger Lexiquette; the night was a perfect example of how artists in this city have evolved into a collaborative hivemind. (we're just better together). 
A few of my personal favorites:
Justin Broadbent (also know as instagram's @keithdungeon).
Considering his insta vibes, I wasn't expecting this soft pastel quirkiness in his paintings but maaaan is it feelsy.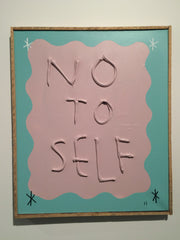 Smolik's haunting ink paintings spoke for themselves...but in case they didn't speak loudly enough for you to hear, the artist paired his work with hilarious titles. I won't spoil it- you'll just have to check it out for yourselves!
TLDR: This city is teeming with innovation, art and culture. Get involved because we are blessed, fam.
The exhibit runs until March 13th at 12 Ossington Ave. More information on the featured artists here. 
writte by Nikki Bagheri