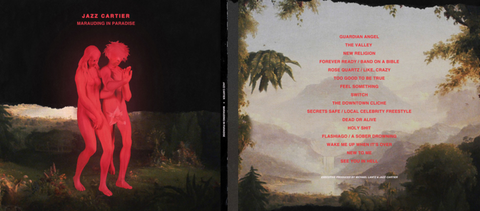 It should come to no surprise that the hip hop scene in Toronto is on fire right now. Yes, we give props to Drake for reviving a little bit of Toronto's spirit, but we can't give him all the credit. There has been a sudden music revolution, a group of youngsters poppin up all over the GTA. However, the best of the best right now (and for years to come) is Jazz Cartier, otherwise known as Jacuzzi La Fleur. 
Cartier dropped his first mixtape, Marauding In Paradise, just over a month ago. Produced by TO local Michael Lantz, the sound of the music is unlike anything you've heard, we promise. The mixtape is available for listen or download on SoundCloud, and we even had the chance to see Cartier perform live at NXNE this past weekend. 
Taking The Danforth Music Hall by storm, a raspy, laryngitis stricken Cartier paraded on stage with an unmatched confidence. Having lost most of his voice at a surprise concert the evening before, Cartier sadly explained his vocals were on the way out. This seemed like a purposeless disclaimer, given that he absolutely killed the performance, pumping rhythm and passion into every lyric. To say the least, his energy was magnetic. 
Toronto - you have a new innovator. And, if you know whats good for you, give the mixtape a listen.