Boobs.
You seen em around town, at bus stops, in alley ways, on ball caps. B00bi3z everywhere. And they all have one thing in common- Nude. Easy, easy, keep your clothes on, kids.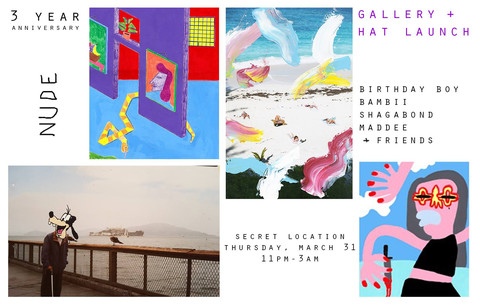 Tonight marks the 3 year anniversary of Nude's existence and it's a worthy cause to celebrate. From it's modest beginnings, gaining notoriety for their "secret location" pop-up events, the collective is now a group of young entrepreneurial creatives pushing to get the voices of musical and visual artists in the city heard. By representing and managing local talent, they have managed to integrate artful beauty into carefully curated cultural events that have been leaving a mark on attendees from all stretches of six. As well as featuring art work in their gallery space and performances by Birthday Boy, Bambii and Shagabond, tonight's byob festivities will also be the first time Nude's dad hats will be available for public purchase.
 
Founder, Zach Roher, sportin the cap
Taking place at a secret location tonight…let's see if you cool cats can find your way to the east side for a really, really dope time.
Check out their website for more info on their team of talent and the up-coming launch of their online gallery curated by the lovely blogstress, Lexiquette.
Written by Nikki Bagheri